Our Code of Business Conduct and Ethics requires us to treat each other, our suppliers and customers, our neighbors, and all members of the LP community with respect. LP does not tolerate any form of physical, verbal, sexual, racial, or any other form of discrimination, harassment, or abuse. Specifically, LP prohibits discrimination in employment and takes action to prevent discriminatory conduct based on race, color, sex, age, religion, national origin, sexual orientation, physical or mental disability, veteran status, or any other status protected by local, state, or federal laws. There is no place in our company for hatred and discrimination.
We are also committed to ensuring our employees feel safe and heard, and that LP operates within the ideals of fairness, mutual respect, and equal treatment for all. These principles are the foundation of our culture. The following pledge for action and action plans are a part of our commitment to DEI for all LP employees.
The LP DEI Pledge for Action
At LP, everyone has a role in addressing the hatred, bias, and marginalization of people. To achieve our vision and purpose, we will take meaningful actions to build a more inclusive workplace and support marginalized communities. We will be bold and intentional in bridging racial and gender opportunity gaps while working to embed diversity, equity, and inclusion in the culture of LP. Read the LP DEI Pledge for Action.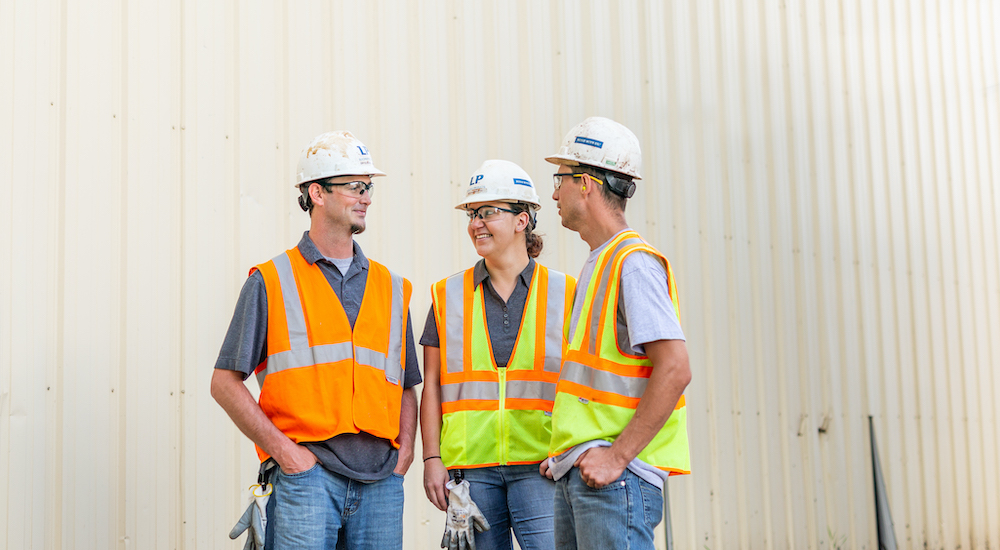 DEI Action Plans
To cultivate an inclusive work environment that attracts and retains a diverse high-performing workforce to enable LP to best serve the needs of our rapidly diversifying markets and communities, the company has created an initial set of DEI action plans. Developed to address the elements of the LP Pledge for Action, these plans prioritize actions, include measurement frameworks, establish goals, and provide reasonable timeframes for execution.
The initial action plans aim to:
Speak out and stand up for justice, equality, and opportunity for all by proactively initiating sustainable conversations within our LP family and the communities in which we live and work.
Make bridging the racial and gender opportunity gaps central to how we achieve our company vision and purpose.
Transform our workplaces into spaces where women, Black people, and people of color will be safe, heard, respected, and included.
Broaden our recruiting and hiring outreach efforts to include more women, Black people, and people of color, offering a positive employment value proposition to join LP.
Increase the representation of women, Black people, and people of color at all levels of LP by fostering a career development focus on all people regardless of race or gender.
Expand the supply chain by cultivating relationships and opportunities to purchase goods and services from minority and women-owned businesses.
Take proactive steps to ensure our advertising and media investments do not support organizations that promote racist or sexist views.