With LP's focus on the innovation of sustainable building materials, our products are also a great choice for the green building industry. Builders agree—for example, LP SmartSide products ranked highest in sustainable siding per the 2022 Green Builder Media Brand Index, which measures market trends and builder sentiment to evaluate housing industry brands in the green living marketplace.
Using LP building products in construction offers architects and home builders a wide selection of materials that can be used towards earning green building credits. For instance, our LP® SmartSide® Trim & Siding products store 10 times more carbon than fiber cement-based products and emit nearly 54% less greenhouse gas emissions. Learn more in the SmartSide Environmental Product Declaration.
Environmental Product Declarations
Green Building Certifications
Green building certification programs, such as the U.S. Green Building Council's LEED® (Leadership in Energy and Environmental Design) certification and the International WELL Building Institute's WELL Building Standard®, are popular with architects and builders. LP innovates to produce sustainable building materials and pursues partnerships with the Sustainable Forestry Initiative® that help gain points with these certification programs.
Product Quality and Safety
At LP, we like to say that our products embody "quality that speaks for itself." Beautiful and exceptionally durable, LP's building products are a cut above the rest. The simplest definition of a quality product is one that meets or exceeds the requirements for a given application. This starts with understanding the building construction process and all the steps necessary to bring a host of solutions together to create a lasting structure. LP's products are designed with solutions in mind that not only meet the stringent requirements of today's building codes but also facilitate a seamless construction process, minimizing wasted time and materials on the jobsite. These code requirements are translated into product attributes that are rigorously tested in our facilities, as well as by independent third-party labs and testing facilities.
The quality of a product is directly related to the consistency of the processes used to produce it as well as the quality of its raw materials. That's why LP employs state-of-the-art manufacturing processes to operate its facilities and monitor the quality of products at every step to detect potential problems before they occur. Reliable processes produce reliable products.
Our commitment to safety in our operations also applies to our products. We offer training in multiple languages to contractors to ensure our products are handled and installed safely. We supplement all our products with a host of technical documents, installation guidelines, and safety data sheets which provide detailed and comprehensive information related to the proper use, installation, handling, and care of our building solutions.
Responsible Sourcing
The LP Sustainable Fiber Sourcing Policy and our third-party forest certifications emphasize our commitment to sustainable forestry across all company operations, as well as with landowners, wood producers, and other stakeholders responsible for forest management and fiber-sourcing activities.
We also recognize that responsible sourcing means our supply chains must be transparent and accountable to LP's high standards. Therefore, we extend the impact of our ethical and sustainability focus through the LP Supplier Code of Conduct, which all our suppliers are required to abide by.
Sustainability and Innovation
Organizations that build sustainable practices are more likely to be innovators, according to research from the Harvard Business Review®. Researchers found that organizations that were leaders in sustainability were also leaders in large part because of the premium placed on new ideas demanded by sustainability practices. Practicing sustainability encourages LP employees to see beyond their specific responsibilities and think about building the company in a more holistic way.
Products That Save Time and Money Deliver Environmental Benefits
Making LP products easier to work with means construction projects are finished faster and less energy and fewer materials are used in the process. That's a win for both our customers and the environment.
For example, we offer siding in 16-foot lengths, which allows for fewer cuts and helps crews install faster because they can cut multiple boards at once, saving valuable time on the jobsite. LP® SmartSide® lap siding is lightweight and durable enough for one crew member to carry and lift the product to workers on scaffolding, which allows for easier jobsite mobility. It can be installed over 20% faster than fiber cement lap siding.
Multipurpose Materials Make Jobsites More Efficient
Many products in LP's Structural Solutions portfolio serve multiple purposes in a build, thus making jobsites more efficient. For example, LP WeatherLogic® Air & Water Barrier serves both as sheathing and as a water-resistive barrier, eliminating the need for additional (often plastic) water-resistive barriers. The same is true for LP® TechShield® Radiant Barrier and LP® FlameBlock® Fire-Rated Sheathing. Both products combine oriented strand board (OSB) sheathing with an additional purpose, such as a radiant barrier or fire resistance, respectively. This eliminates the need to install multiple products by accomplishing the same result with one multipurpose product.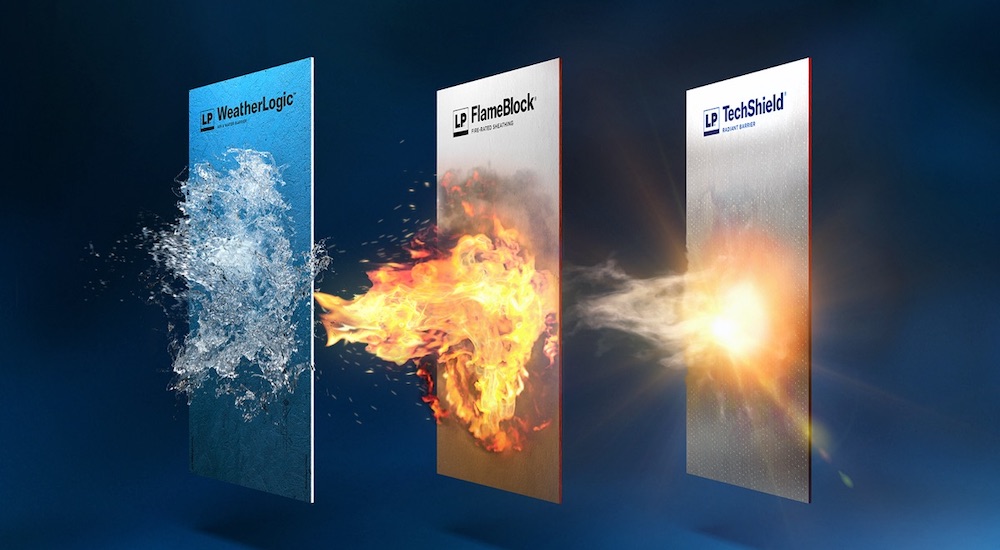 Energy Efficiency in Homes
LP pioneered the production of the first radiant barrier sheathing, LP® TechShield®, which is the top radiant barrier on the market today. According to research conducted by the Florida Solar Energy Research Center and Oak Ridge National Laboratories, LP TechShield blocks up to 97% of radiant heat in roof panels and can lower attic temperatures by up to 30° F. TechShield has been installed in over 2 million homes in the U.S. and may also help builders qualify for various energy codes, including green building credits, energy rebates, and lower Home Energy Rating System (HERS®) Index scores.