Our commitment to sustainable forestry is highlighted by our third-party forest certification to independent standards from the Sustainable Forestry Initiative® (SFI®) and the Programme for the Endorsement of Forest Certification (PEFC®). All the fiber sourced from the U.S and Canada is certified to SFI standards. LP was an early adopter of forest certification standards and was first certified to SFI in 2000.
Our South American facilities are certified to the PEFC Chain of Custody Certification. This certification will provide our customers with the assurance that the fiber sourced and products manufactured by our LP facilities in South America are being managed responsibly and in compliance with government laws and regulations.
We are committed to implementing sustainable forest management standards and best practices that help protect and conserve forests across our managed landscapes. We use trained Qualified Logging Professionals to help meet our environmental obligations and conservation objectives. The LP Sustainable Fiber Sourcing Policy further emphasizes our commitment to sustainable forestry across all company operations in North and South America.
Certificates
Forest Management Plans
Leadership on Climate Change
We see sustainable forestry as critical to the fight against climate change. As trees grow, they sequester carbon. Replanting trees and/or promoting natural regeneration after harvest helps to increase carbon dioxide absorption from the atmosphere. In fact, younger trees are able to sequester carbon at higher rates than older, more mature trees. Our products, which are manufactured to last, also store carbon over their lifetime. For example, when LP® SmartSide® Trim & Siding is installed on a home, it will store over 10 times more carbon than fiber cement siding products over its lifetime. When people choose sustainable forest products over more energy-intensive building alternatives, such as concrete and steel, they help make positive contributions towards mitigating climate change. For instance, aluminum siding materials require over 70% more energy to produce than SmartSide® products.
LP and Ducks Unlimited Canada (DUC) developed a new method of estimating carbon storage in boreal wetlands. Determining the carbon capture and storage capacity of boreal wetlands is critical to understanding the role of these ecological systems in mitigating global climate change. Estimations indicate that approximately 250 million tonnes of carbon are stored within peatlands, a type of wetland commonly found in the forest management license area in Manitoba, Canada.




Learn more about LP and DUC's landmark agreement to support 6.2 million acres in Manitoba's boreal forest
Our SFI® certification program is also helping us advance climate-friendly practices. SFI is implementing a new climate-smart forestry objective that will require forest management activities to address climate change adaptation and mitigation measures. For instance, our operations in Swan Valley, Manitoba worked with leading scientists and conservation organizations to quantify the amount of carbon stored in peatlands. Learn more about our work to measure the amount of carbon stored in boreal forests and wetlands here.
LP is also working to quantify contributions to greenhouse gas (GHG) emissions related to product manufacturing (Scope 1 and 2) and contributions across our supply chain (Scope 3), using globally recognized GHG protocols.
We have provided our annual GHG emissions for Scope 1 and 2 (2019, 2020) within our SASB disclosures as well as in the graphs below. Compared to 2019, our 2020 Scope 1 GHG emissions decreased by 18%, and our Scope 2 emissions decreased by 3%. This is primarily a result of declining natural gas usage and temporary production curtailments due to the COVID-19 pandemic.
In 2021, we completed our baseline Scope 3 emissions for 2019, which includes all indirect emissions that occur from both upstream (our suppliers) and downstream (our customers and end users) activities. Our Scope 3 emissions (2019) were 1.1 million metric tons of CO₂e (67% of our total GHG emissions) and primarily originate from upstream supply chain activities.
This information will assist in developing a baseline from which to establish measurable targets for reducing our carbon emissions going forward.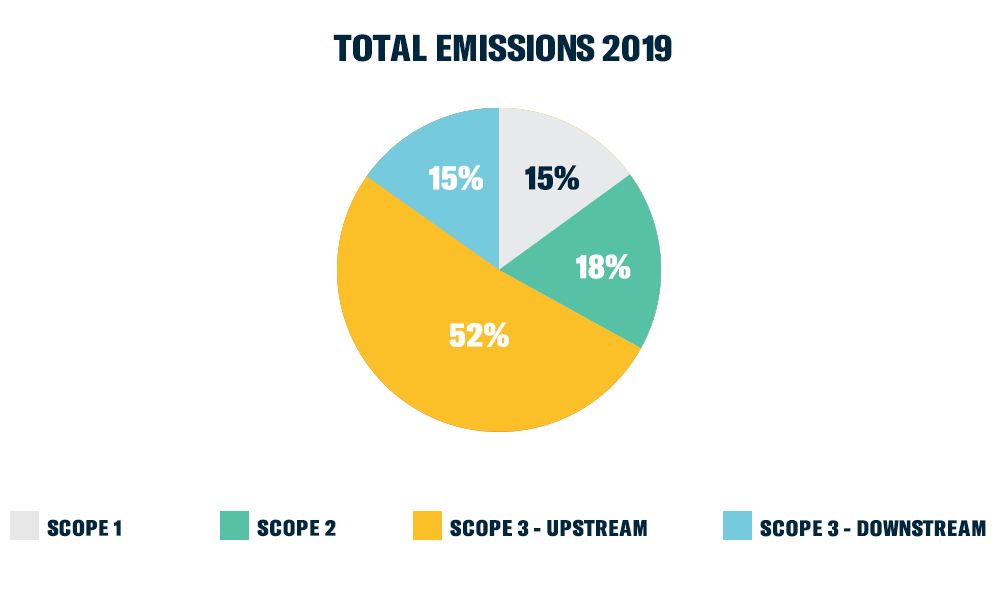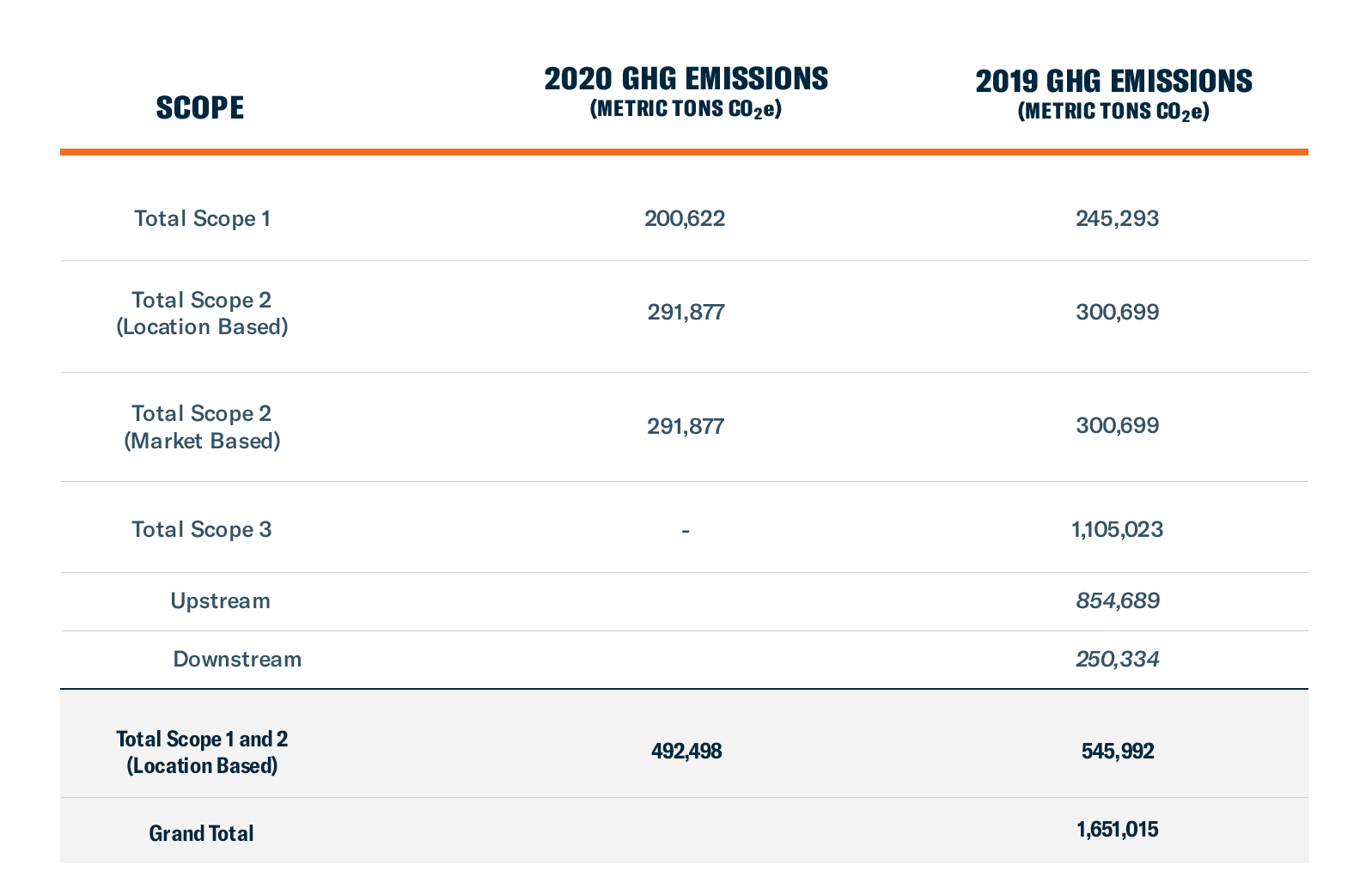 *We have restated our 2019 Scope 1 emissions as our underlying data and tracking systems continue to improve.
Biodiversity and Habitat Conservation
We are committed to sustainable forest management principles and best practices that help protect and conserve forest habitat and species diversity. Our forests are managed in such a way that a variety of forest age classes are maintained and interspersed across our wood supply areas. This ensures that a range of habitats is available for plant and animal species requiring younger forests as well as for species requiring habitats only found in older forests. At a finer scale, logging operations are implemented in a manner that ensures both single and patches of trees are retained across the harvest area, encouraging wildlife use in the area during and after harvesting.
LP has been successful in achieving our sustainable forest management objectives through our use of trained Qualified Logging Professionals, who deliver real conservation results on the ground. These professionals adhere to state and provincial best management and practices that, in addition to protecting ecologically sensitive and culturally important sites, promote forest productivity, protect water quality and conserve wildlife habitat and biodiversity.
Fiber Sourcing and Reforestation
All our engineered wood products contain wood fiber sustainably sourced from either public or privately-owned forestlands. Across our Canadian operations, public forestlands are managed under license agreements authorized by provincial governments. LP has direct, on-the-ground forest management responsibilities and legal obligations under these agreements. Forest operations on publicly-owned forestlands in Canada are governed by a rigorous set of legislative and regulatory policy. All of the public forestlands—over 12 million acres—licensed to LP in Canada are certified to the SFI® Forest Management Standard.
Wood fiber sourced from private lands in the U.S., Canada, and South America are managed directly using best management practices (BMPs) and Qualified Logging Professionals (QLPs) to ensure that wood sourced from these areas comes from non-controversial sources and is managed responsibly. Although LP does not have direct management control over private forestlands, we strongly encourage the implementation of best practices in these areas through communications with suppliers and family forest owners, as well as conduct regular wood supplier site visits to monitor the progress of harvest operations and the application of BMPs. All the fiber we source is managed through LP's SFI-PEFC® Forest Certification Program.
In 2020, the majority of our wood supply in the U.S and South America was sourced directly from private lands. In comparison, our Canadian operations primarily sourced their wood supply from publicly-owned forestlands. While these percentages may vary slightly from year to year, the overall distribution is consistent.

The majority of our manufacturing facilities use a deciduous, hardwood tree called trembling aspen to produce our products. Aspen trees are known for their natural ability to rapidly regenerate new strands (tree trunks) from their root systems after their tree stems have been harvested. They can grow to be very tall but have a shorter lifespan than conifer species, such as white spruce, due to their susceptibility to insects and disease generally after 50+ years of age. Sustainable forest management operations in mature aspen forests help to restore these aging ecosystems. In turn, healthy aspen forests provide habitats for plant and animal species as the new stands grow through their various stages of development.
Often, in our Canadian and northern U.S. operations, trembling aspen is found in conjunction with conifer species, such as white spruce or black spruce. When these sites are harvested, the aspen will regenerate on its own; however, the conifer species, which regenerate from seed, are manually re-planted on the site, using seedlings. In Canada, our public land management obligations require LP to ensure that timberlands harvested are regenerated to the original tree species composition soon after harvest. On average, LP plants approximately 4 million conifer trees annually across our operations in British Columbia, Manitoba, and Quebec.
Our U.S and South American operations source wood from private landowners. Our U.S. and South American operations source wood from private landowners, which means the implementation of reforestation programs largely rest with them. To help keep working forests healthy, LP works closely with private wood lot managers to provide education and awareness on the importance of reforestation and sustainable forest management practices.
In the southern U.S., we source our timber from predominantly privately-owned southern yellow pine forestlands. Landowners re-establish their pine forestlands through artificial regeneration which involves planting, direct seeding, or natural regeneration, which leaves dominant, more desirable seed trees on site.
Collaborating With Leading Environmental Organizations
We work with environmental leaders, such as the National Council on Air and Stream Improvement (NCASI), Ducks Unlimited Canada, and the National Wild Turkey Federation to harness the power of partnerships and promote the use of best-in-class management practices across our industry. We support forest research to advance sustainability and address key challenges, including understanding the interactions between climate and forest ecosystems and protecting at-risk species, such as the golden-winged warbler, gopher tortoise, and northern long-eared bat. These research projects present an exciting opportunity to work with a range of experts who assist LP in developing tools and strategies to manage and promote healthy forest landscapes.
Working With Indigenous Communities
LP is committed to building and maintaining positive relationships with Indigenous Peoples and Indigenous Nations in all countries where we operate. We acknowledge that Indigenous Peoples and Nations exercise rights protected by the 1982 Canadian Constitution Act in the areas in which LP operates in Canada. Our efforts towards building positive relationships with Indigenous Peoples and Nations everywhere are guided by relevant principles which may include the United Nations Declaration on the Rights of Indigenous Peoples (UNDRIP).
Meet Nicole Leibel, a tech processor on our Quality & Technology team at LP Swan Valley. Nicole shared her experience as an Indigenous woman working in Canada's forest products industry with the Forest Products Association of Canada.
LP is committed to engaging with Indigenous Peoples and Nations through opportunities relating to:
Local employment
Job training and education
Business relations and agreements
Community involvement and outreach